71 Home Care Services for Seniors Serving Alexandria, VA
Much of America's history has passed through Alexandria, a southern suburb of the nation's capital. A large portion of that history is still present, as at Gadsby's Tavern, where seniors can meet for lunch in the same booth where Thomas Jefferson used to argue politics and wine choices with John Adams in the 1790s. This, along with other popular attractions on the waterfront, is part of the reason Alexandria was named "Best Place to Go for the Value" in 2018.
More than 10% of Alexandria's 160,000 people are seniors aged 65 and over, and the city offers more than a few activities to help keep up a sense of community, such as senior art classes at a converted torpedo factory and summer parks programs.
Seniors in Alexandria pay an average of $3,670 a month for homemaker services, according to the 2018 Genworth Cost of Care Survey. The same survey found an average local price of $3,861 per month for home health aides in the Alexandria area. By contrast, seniors nationally spend an average of $4,004 per month for homemaker services and $4,195 per month for home health aides, up to 10% above Alexandria's average costs.
At Caring.com, we've compiled a comprehensive directory of every home care provider in the Alexandria area – complete with types of care provided, services offered and reviews from families who've actually used the service. In addition to our in-depth provider listings, we've compiled a list of resources to help seniors and their families access all the tools they need to age in place safely and gracefully.

Alexandria Home Care Resources
Home care services are only one of the pieces needed for seniors to gracefully age in place. There are many services and programs that are low-cost or free, that enable seniors to enjoy an independent lifestyle in the comfort of their own home, such as help with home modifications, meal delivery services, and more. Below, we've compiled a few of the most helpful resources in Alexandria:
Address: Alexandria City Hall, 301 King Street, Alexandria, VA 22314
Phone: 703-746-4357
The City of Alexandria offers emergency help for seniors facing eviction or foreclosure due to late payments of rent and mortgages. The Housing Crisis Assistance program is open to seniors in the area who meet income and residency requirements and who are in imminent danger of losing their housing. Applications are reviewed annually for applicants aged 65 and over. This program may pay up to $6,000 a year for continuing assistance to low-income seniors.
Address: 2100 Washington Blvd. 4th floor, Richmond, VA
Phone: (703) 228-1700
The Virginia Department for Aging and Rehabilitative Services can reimburse seniors for up to $400 a month for the costs associated with respite services provided at a state-licensed facility in Alexandria. Income and asset limits apply to applicants. To claim the voucher, seniors must apply through the Department of Aging for approval, pay the costs up front and then request a voucher afterward.
Address: 3000 Business Center Drive, Alexandria, VA 22314
Phone: (703) 746-3274
MetroAccess and Alexandria DOT Paratransit both offer discount travel to seniors in the Alexandria area. Rides on either service may take seniors to medical or personal trips within the city or on round trips as far away as Washington, D.C. Seniors with transit ID cards pay half price on these routes, while caregivers ride for free.
Address: 600 East Main Street, Suite 300, Richmond, VA 23219
Phone: (804) 371 7000
Seniors in Alexandria can get no-cost assistance with home weatherization through the Commonwealth's Weatherization Assistance Program. Seniors who live in Alexandria can apply for the program through the state office in Richmond and then be referred to a local provider on the WAP list. Income limits apply to applicants, as do limits on the amount of work that can be done, but the service is open to all qualifying seniors, including both homeowners and renters.
Determining Your Loved One's Need for In-Home Care

Aging can be a difficult process, and loved ones may not always ask for help – often times it's up to their family to evaluate their need for help around the house. While no two situations are exactly alike, this checklist can help you and your loved ones determine when it's time to start the search for a home care provider.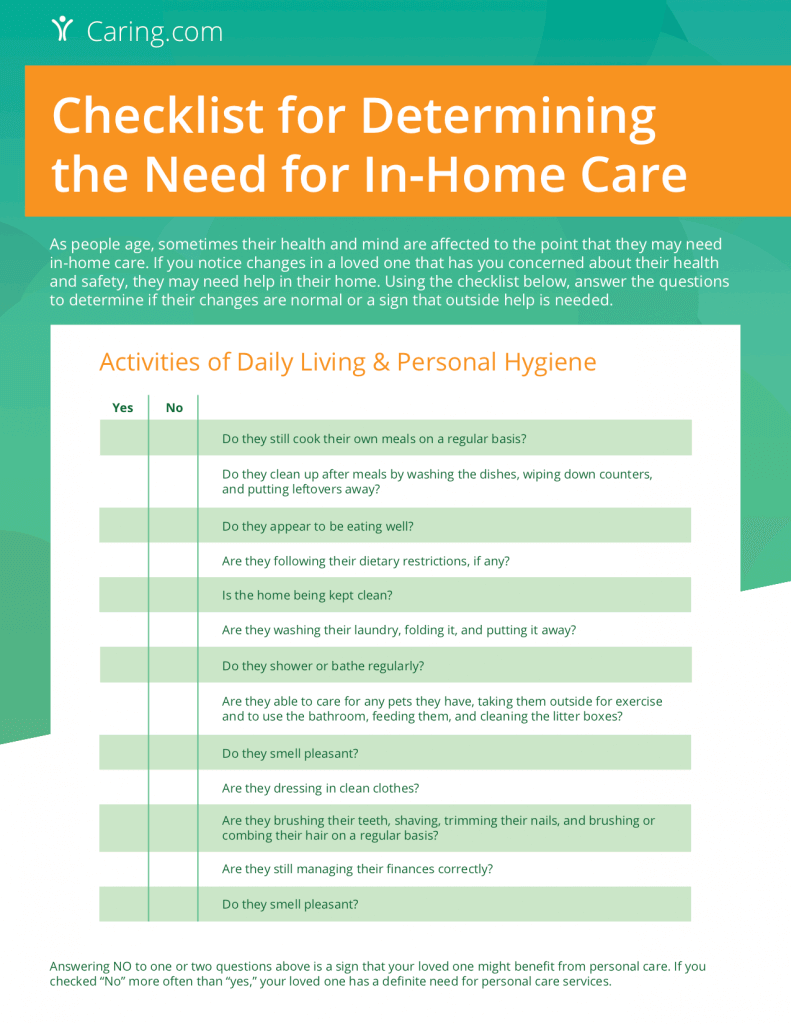 Guidelines for Talking About In-Home Care
If you've determined that your loved one needs the assistance of a care provider in their home, it may be time for a difficult conversation. Handled correctly, however, this process can bring a family together and ensure that everyone's concerns are addressed. Use this PDF as a starting point to help the conversation stay as positive and productive as possible.